Wait Lists Cut Thanks to Pathways, Specialist Link
Family doctors, specialists work together to improve patient care, access
When Hayley Clarke was told tests for her upcoming bariatric surgery revealed abnormal results, she was understandably worried.
"There's a history of stomach and esophageal cancer in my family, so I was really nervous," she says.
Typically, the Calgary resident would've had to wait months to see a gastroenterologist for follow-up.
But thanks to Enhanced Primary Care Pathways — a program created by the Alberta Health Services (AHS) Calgary Zone division of gastroenterology and Primary Care Networks (PCN) — her family doctor was able to consult a specialist within days and offer Hayley swift assurance that all was well.
"I felt great because I didn't have to wait a long time to see a specialist, take time off work and worry about what might be wrong," she says.
"I was grateful my doctor took care of the consult with the specialist because she knows the right questions to ask and she knows my history and issues better than I do. It was wonderful leaving her office knowing I had my answer — and that I was getting the care I needed without having to wait."
"Ensuring these patients get a timely diagnosis and access to treatment faster is another example of our government's priority to make life better for Albertans."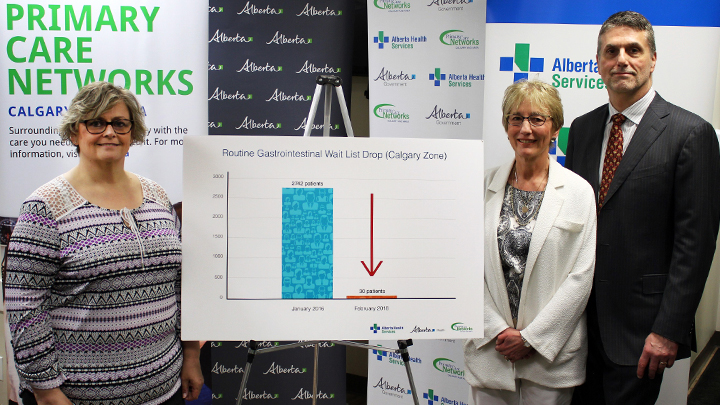 The pathways program allows patients in the Calgary Zone with non-urgent gastrointestinal (GI) issues to receive timely care from their family doctor rather than waiting months or even years to see a specialist. As a result, non-urgent GI wait list times have dropped a remarkable 98 per cent — a reduction that now allows patients with urgent symptoms to be seen more quickly by a specialist.
Under the program, family doctors are equipped with comprehensive, evidence-based guidelines that provide the necessary information and support to determine if a patient needs an urgent referral to a gastroenterologist, or if that patient is better served within the doctor's practice.
"We receive about 1,900 referrals a month but, with 38 gastroenterologists, patients with non-urgent GI issues accumulated on the waitlist," says Dr. Mark Swain, GI division head for AHS Calgary Zone.
"However, our data showed that many people on the waitlist to see a GI specialist had a non-urgent condition that could be treated effectively and more promptly by a family physician, especially if that physician could access the right information and supports."
Dr. Christine Luelo, South Calgary PCN medical director and family physician, has used the pathways in her practice numerous times and says they have helped shift mindsets between the role of primary care physicians and specialists in patient care.
"The pathways give me the confidence and the competence to manage a patient without the specialist having to be physically present. Yet I have access to their expertise," she says.
"Our culture is very much one of 'let's refer it to a specialist' — but we know that's not always what's best for the patient or the healthcare system. With these pathways, we have the tools and support to provide optimal patient care in a more timely and effective manner, because patients are cared for in the right environment from the start."
Following the success of the GI division's pathways, five other specialties in the Calgary Zone are implementing similar programs, and the team is sharing its knowledge and resources across Canada with endorsement from the Canadian Association of Gastroenterology.
Minister of Health Sarah Hoffman says the pathways are an ideal example of how specialists and primary care physicians can work together to improve the healthcare experience for patients and families. "When someone is suffering from a gastrointestinal problem, they deserve to get the help they need as soon as possible," Minister Hoffman says.
"Ensuring these patients get a timely diagnosis and access to treatment faster is another example of our government's priority to make life better for Albertans."