Alberta Find a Doctor website a big hit with patients
"As the province continues its reopening strategy we hope patients keep using the website to access the care and support they need to stay safe and healthy,"
ALBERTA (Thursday, June 18, 2020) – More than 170,000 Albertans visited albertafindadoctor.ca in its first year of operation as patients turned to the online search tool to help them find a family doctor.
The website, launched by the province's Primary Care Networks in April 2019, is designed to make it easier and quicker for Alberta residents to connect with doctors taking new patients.
The number of new visitors to the website grew steadily from just under 6,000 in April 2019 to a high of more than 21,000 in January 2020. Visits dropped slightly during the COVID-19 pandemic but there was an average of more than 14,500 new visitors a month from April 2019 to March 2020. Most of the patients visiting the website were from Calgary and Edmonton but the number of visits from the South, Central and North Zones rose throughout the year.
Ninety per cent of users found www.albertafindadoctor.ca helpful or extremely helpful in their quest to find a family doctor. These and other facts and figures related to the website's first 12 months can be found in a one-page 'by the numbers' infographic. Click here to download the report.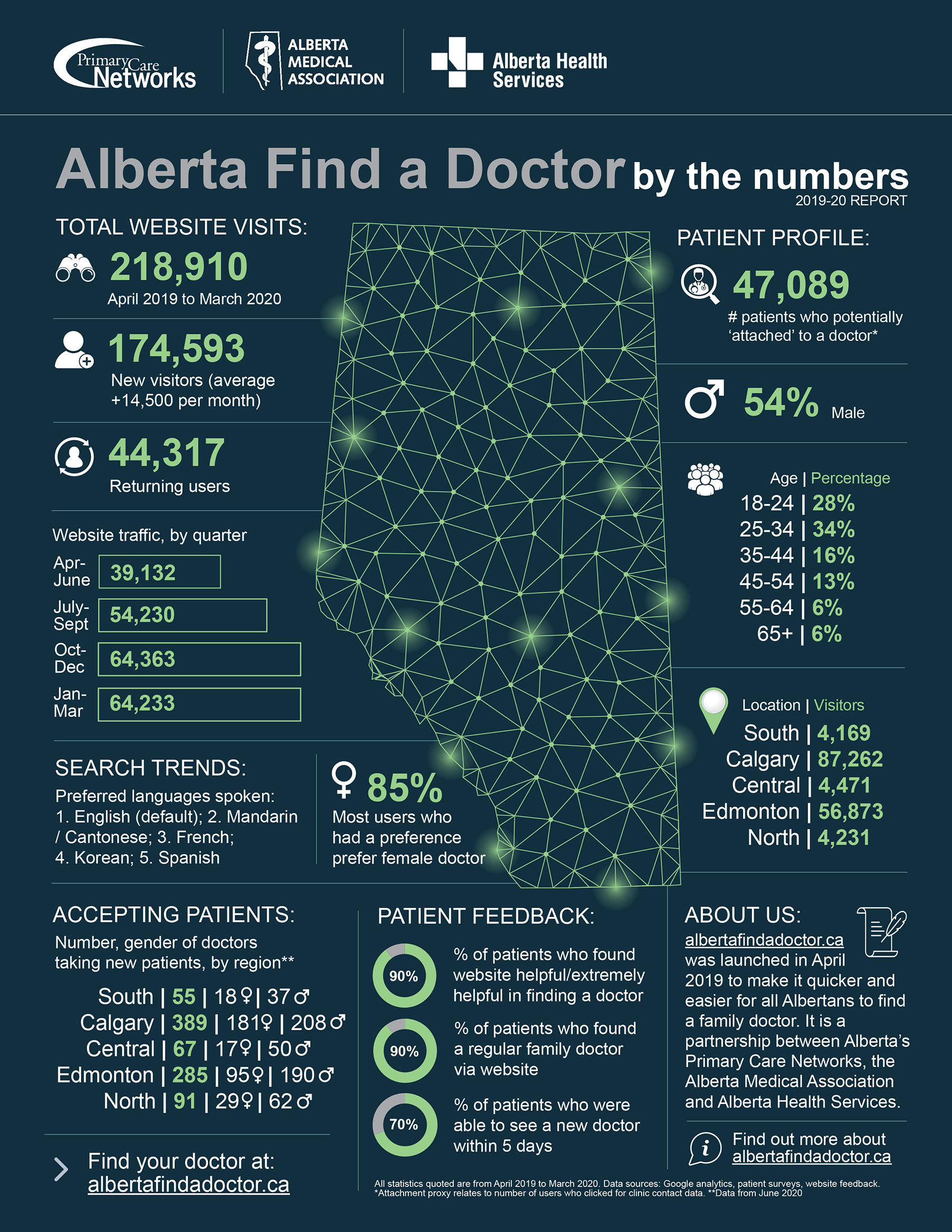 "As the province continues its reopening strategy we hope patients keep using the website to access the care and support they need to stay safe and healthy." - Dr. Ernst Greyvenstein
Just under one in four family doctors throughout the province – 887 – are currently accepting new patients. Albertans can visit albertafindadoctor.ca on their mobile device, tablet, laptop or desktop computer to find out which doctors are taking patients in their community.
Visitors to the website can search for doctors by location, using a Google Maps search tool. They can also specify physician gender and languages spoken. Once the patient decides which doctor or clinic works best for them, they can call the clinic to request an appointment. The service is free to use and in addition to being available online, it can be accessed by calling Health Link at 811.
More than half of those using the site last year were aged 34 and under, with 34 per cent in the 25-34 age category. About 54 per cent were male. The vast majority (85 per cent) of those looking for a doctor who expressed a preference said they would prefer to find a female family doctor. Where a language preference was specified, the most popular requests other than English were for Mandarin or Cantonese-speaking physicians, followed by French, Korean and Spanish.
Alberta Find a Doctor brings together services that previously existed in Calgary (calgaryareadocs.com), Edmonton (edmontonareadocs.ca) and some other parts of the province.
In Alberta, most family doctors are members of Primary Care Networks (PCNs). PCNs develop programs and services to help meet the everyday health needs of the patients and communities they serve. They work alongside more than 3,800 family doctors and 1,400 other health professionals – including nurses, pharmacists, mental health professionals and social workers – to provide team-based care. Information about how patients can find their PCN and access free programs and services is also available via the website.
Patients will soon be able to visit albertafindadoctor.ca to search for nurse practitioners who are taking patients.
ABOUT PRIMARY CARE NETWORKS: Primary Care Network services and programs are developed in partnership with family doctors and Alberta Health Services. They are designed to meet the everyday health needs of patients in the communities they serve.