Primary care helping to fuel the fight against COVID-19
Did you know that nine out of 10 COVID-19 patients in the Calgary area are being treated by PCN doctors and teams as part of a coordinated response strategy that is unique in Alberta?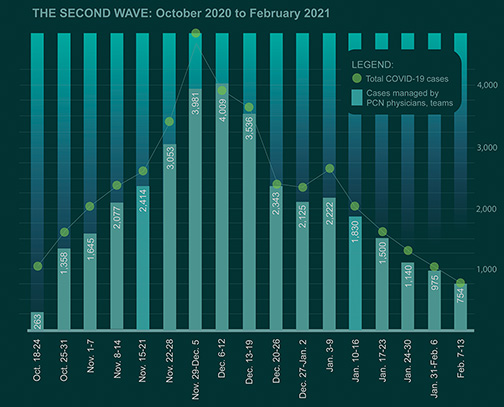 In the spring of 2020, the seven Primary Care Networks (PCNs) in the Calgary Zone worked closely with public health and Alberta Health Services to develop a strategy to have some COVID-19 patients cared for by their family doctor.
Rural and urban patients with mild or moderate COVID symptoms were cared for by their family physician, freeing up vital hospital beds for the critically ill and easing the burden on hospitals. Any COVID positive patients without a family doctor were attached to a family physician.
PCNs also developed tools and staged monthly educational webinars to support family physicians. These initiatives were successfully shared with other health zones in Alberta, helping the fight against COVID-19 across the province.